Totems Brighten TVUSD Adult Community Programs thanks to the work of Brett Lewis and the TVHS City Beautification Club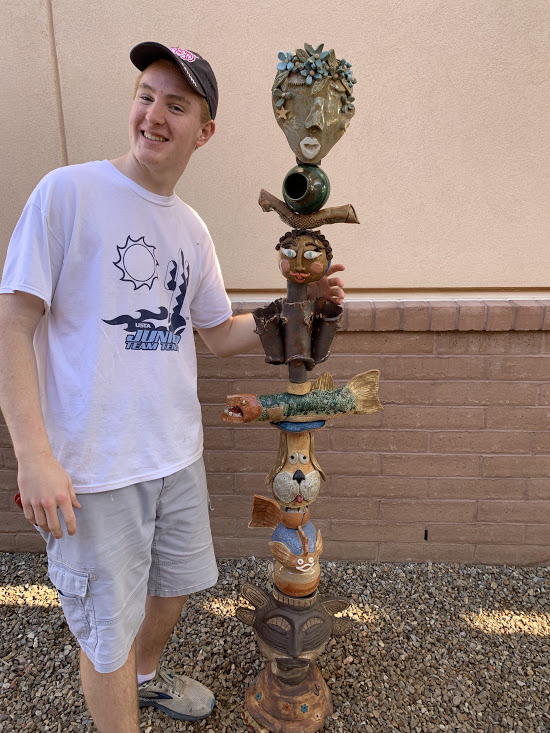 ---
Students from Tanque Verde High School recently organized their City Beautification Club, led by TVHS Senior, Brett Lewis, to restore and enhance the beloved courtyard at the Lew Sorensen Resource Center, Adult Community Programs building, located next to Emily Gray Jr. High School on Tanque Verde Loop Rd.
The courtyard was in need of some thoughtful restoration, following the completion of construction on the new Fine and Performing Arts building at EGJH. Lewis planned and procured bird and butterfly friendly plants. With the acquisition and installation of these plants, the hope is that the courtyard will be able to continue in its role as a Certified Monarch Habitat.
These cheerful totems, in the adult programs building courtyard, enhance the lovely landscape created by Brett Lewis and his crew. The totems were created by the adult programs participants, and they are the guardians of the Lew Sorensen Adult Education Program Building. Situated in the adjacent courtyard, they oversee students and instructors as they come and go to enjoy classes in pottery wheel throwing and handbuilding (mosaic, sculpture, and combinations of all these). Offerings also include weaving at all levels, knitting, and two new classes in macramé and printmaking.
All classes are listed on the district website under community adult leisure classes. Winter classes began in January. The next session will be offered in March/April 2023. Please visit the website for more information: https://www.tanqueverdeschools.org/adultleisureclasses