Please Make Your Tax Credit Donation to TVUSD! Take A Dollar-For-Dollar Credit On Your Arizona Taxes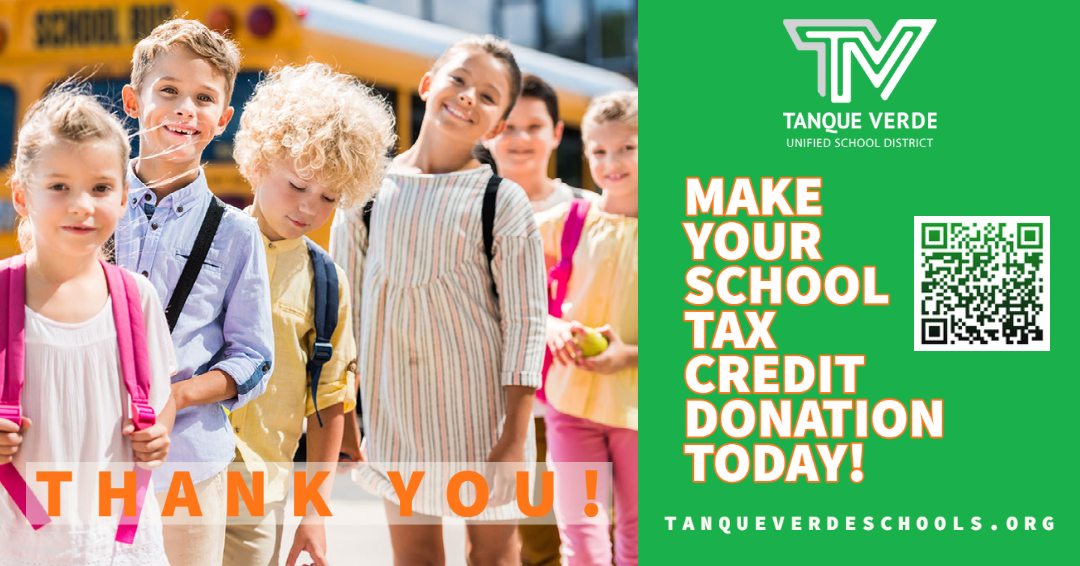 ---
~ Make a difference in a student's life by donating today!
TVUSD students benefit from many enrichment programs and extracurricular activities which are supported by your Public School Tax Credit donations.
You can help Tanque Verde Unified School District students and possibly lower your tax bill by making an Arizona state tax credit donation. The state tax credit is available to ALL qualifying individual Arizona state taxpayers. You do not need to have a child enrolled in a school to take advantage of this state tax credit. Tax credit donations are vitally important for extracurricular programs, and the students in our district continue to count on your support to keep programs running.

A tax credit is different from a deduction, because you may subtract the whole contribution from your Arizona state tax bill. An individual may contribute as much as $200, and a couple filing jointly may contribute as much as $400 to a public school and receive the money back in the form of a tax credit. More information is available on our website. It is always best to consult a tax adviser to see if you qualify for the dollar-for-dollar credit.


To make an online donation to any Tanque Verde district school, or for more information, please visit our website at https://www.tanqueverdeschools.org/taxcreditdonation.
There are many extracurricular activities which are eligible for tax credit donations. For example, our district fine arts and athletics programs are largely funded through community support from district residents.
Thank you for supporting TVUSD students with your Arizona Public School Tax Credit contribution!