Tanque Verde Elementary School Celebrates Music Garden Opening With Student Performance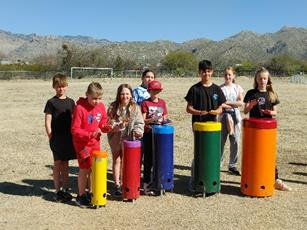 ---
Tanque Verde Elementary School celebrated the opening of its new Music Garden on February 7, 2023, with a musical performance by its students.
After receiving a grant from A for Arizona, a non-profit group in the state, the school was able to use the funds to create a place for students to enjoy playing music in the outdoor space at school. Outdoor musical instruments by UK based company, Percussion Play, were ordered and include the Rainbow Sambas, Handpipes, Harmony Flowers, Quintet Ensemble, Akadinda, Cherub and Tubular Bells.
A recent White Paper by Percussion Play reveals that playing musical instruments in an outdoor setting helps to improve the well-being of those using them. In addition, the school wanted to reverse the negative impact the pandemic had on its students. Research has also shown that creating music improves student achievement.
The school intends for teachers to take their classes outside for instruction in the Music Garden. The instruments will also be available for students to use during their free time during morning and lunch recess.
Percussion Play is the world-leading manufacturer of outdoor musical instruments and is seeing an ever-increasing interest in its inclusive outdoor instruments that are played across the world in schools, libraries, parks, hospitals and senior living communities. From the popular Calypso Chimes to the Harmony Flowers. Percussion Play's instruments are designed to bring people together to create uplifting music. Its mission is to inspire people musically, promote curiosity, and provide opportunities for meaningful musical engagement outdoors.