Pathways to college and career start at Tanque Verde Unified School District!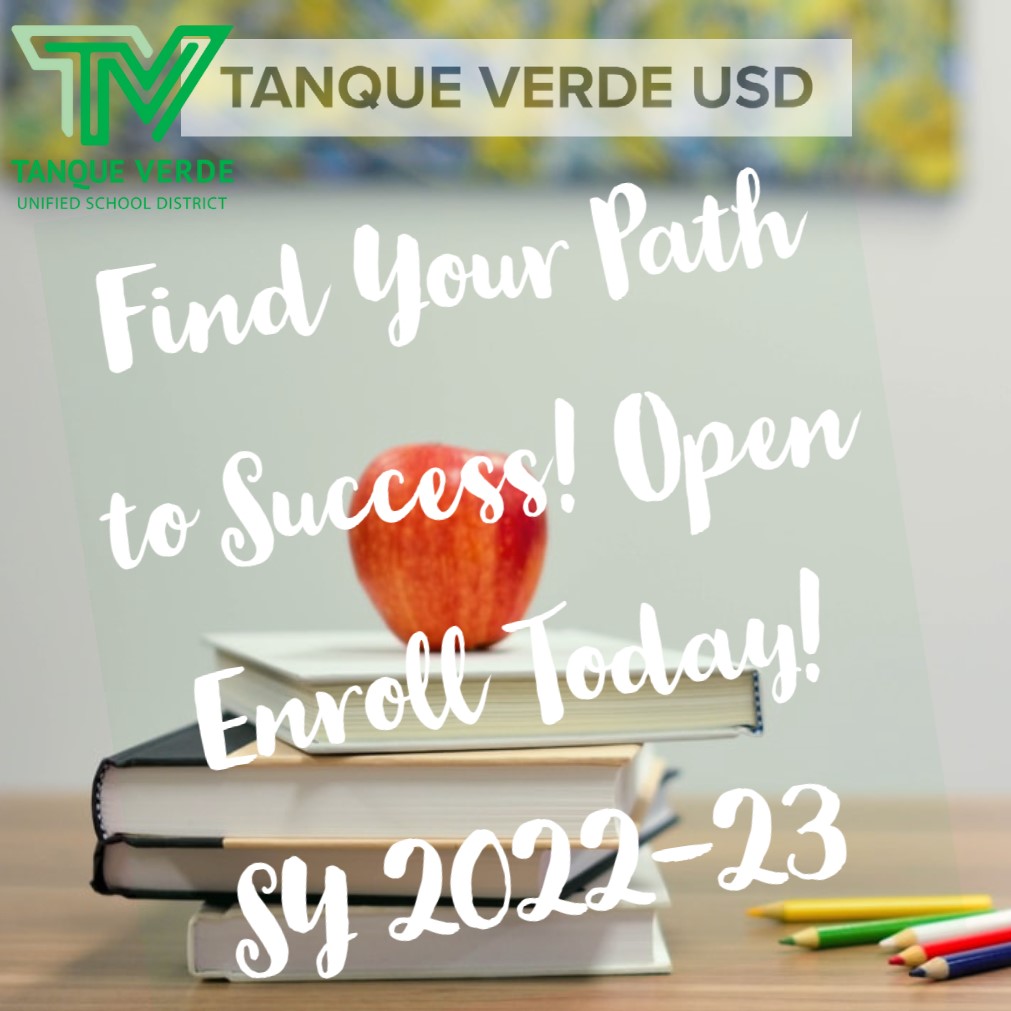 ---
Pathways to college and career start at Tanque Verde Unified School District!
We are a top-ranked public school district with a reputation for educational excellence, individualized support, and a strong school community.
Some Open Enrollment capacity is still available for the 2022-23 School Year. Please use the application link below to apply!
Tanque Verde High School
The Pathways at Tanque Verde High School provide advanced academics, exceptional instructors, and opportunities for all students, including Advanced Placement (AP©) and dual enrollment courses, CTE Programs, JTED Precision Manufacturing, and Arts education (Art, Marching Band, Concert Band, Jazz Band, Percussion, Orchestra, Choir, Guitar and Theater), as well as a wide offering of competitive athletic programs coached by the largest number of Coaches of the Year awardees in Southern Arizona. Dedicated, highly-qualified teachers prepare students with personalized learning and the integration of school-to-work and career opportunities.
Our TVHS Pathways Program offers these exciting opportunities for our students:
Science and Technology Pathway (STEM)

Performance and Design Pathway

University of Arizona Honors College Pathway

Liberal Arts Pathway
For more detailed information: The Pathways at Tanque Verde High School
Emily Gray Junior High School
Schedule your tour today! Tour our Campus. Explore Pathways to Success & Extracurricular Activities!
Pathways to college and career start at Tanque Verde Unified School District!
Agua Caliente and Tanque Verde Elementary Schools
Our A-Rated Elementary Schools offer students PreK-6th Grade outstanding academics, experienced, compassionate teachers, character education, and specialized instruction in Art, Music, Library, Physical Education and Gifted Education. TVUSD offers FREE Full-Day Kindergarten in our brand new Kindergarten Buildings on both campuses!
Tanque Verde Community Preschool
We are pleased to offer a unique preschool program which provides growth and learning opportunities for both children with disabilities and their 'typical peers' or students without disabilities. We provide Special Education services for preschool-aged children in an up-to-date preschool facility for district residents who have a preschool-aged child receiving services designated in his/her Individualized Education Plan (IEP). The district offers a developmentally appropriate, fee-based, district preschool program, affording an opportunity for an enriching preschool experience as part of our district programs.
Limited space is also available in the Tanque Verde Community Preschool program for additional out-of-district preschool students depending on capacity.
Click here for TVCP Information
Find your path to success! Join our Tanque Verde Schools community! Open Enrollment Capacity information, and our online open enrollment application, can be found at: https://www.tanqueverdeschools.org/OpenEnrollment.aspx or click on the image below.