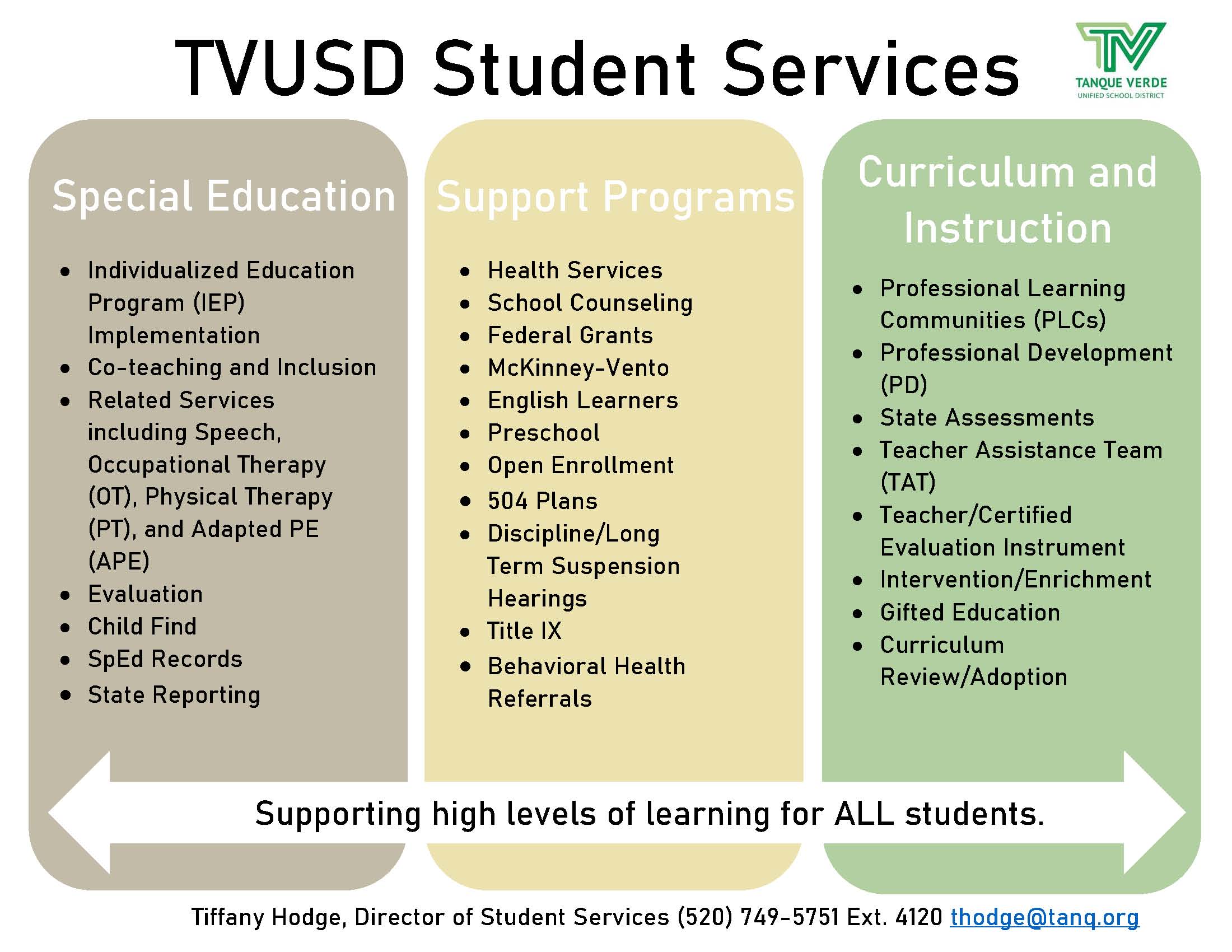 Title IX of the Education Amendments of 1972 (20 U.S.C. §§1681 et seq.) prohibits sex discrimination in education and in employment.

The Tanque Verde Unified School District No.13 does not discriminate on the basis of race, color, national origin, sex, disability, or age in its programs and activities and provides equal access to the Boy Scouts and other designated youth groups.

Any person that believes they have been harassed or discriminated against based on his/her sex can file a concern/complaint by contacting the District's Title IX Coordinator, Tiffany Hodge.
Title IX Coordinator/ Investigator-
Tiffany Hodge, Director of Student Services
Title IX Decision Maker -
Dr. Scott Hagerman, Superintendent

Questions concerning compliance with any of the above should be referred to Ms. Tiffany Hodge, Director of Student Services
School Based Referral for Behavioral Health
TVUSD provides school-based referrals for behavioral health services to a contracted behavioral health services provider pursuant to the children's behavioral health services fund established by section A.R.S. §36-3436 or for services provided through the Arizona health care cost containment system. In order to opt-in you will need to fill out the survey separately for each child.
Providers in Southern Arizona
Arizona Children's Association
Casa de los Ninos
Child and Family Support Services
Horizon Health and Wellness
Pathways
La Frontera Arizona
Intermountain Centers
Jake's Law
In 2020, the Arizona legislature passed "Jake's Law," which created a fund that provides uninsured and underinsured children access to behavioral health services when they are referred through an educational institution – otherwise known as "school-based referrals." To make school-based referrals, the legislature required school districts and charter schools to pass a policy that outlined the law as it relates to school-based referrals. The policy must include:
An opt-in process for parents

A survey to parents whose children utilize school-based referrals

A list of service providers published on the district website

An annual report to the Arizona Health Care Cost Containment System (AHCCCS)